Unlocking Opportunities in Nigeria's Mobile Value Added Services (mVAS) Market
Nigeria, often referred to as the "Giant of Africa," is a country of possibilities. With a population of over 218 million people, it boasts a thriving mobile industry with great potential for carriers, aggregators and content providers looking to grow Mobile Value Added Services (mVAS) revenue.
Aligned with this growing market, MCP Insight has recently launched our mVAS ad monitoring platform, MCP SCANNER in Nigeria. Already, we are generating interesting intel into the market and the types of services currently available. If you're thinking about entering this market or expanding your market share, this article explores the mVAS landscape in Nigeria.
The Mobile Revolution
Nigeria's mobile penetration is an impressive 87%, with 172 million mobile subscribers. Furthermore, the country is experiencing a smartphone boom, with forecasts predicting that the number of smartphone users will exceed 140 million by 2025. This equates to a 66% smartphone penetration rate, making Nigeria the ninth country globally with the highest number of smartphones. 86% of these smartphone users prefer Android devices.
The Nigerian mobile market is currently served by four national operators, with MTN leading the way, controlling approximately 40% of the market. Glo and Airtel compete for second place with each holding around 25% market share, while 9Mobile has less than 10%. This dynamic market is ripe for innovative mVAS offerings.
mVAS Market Size and Government Initiatives
The telecom services market in Nigeria is thriving, valued at $9.1 billion in 2022, and is expected to continue growing at a CAGR of 4.6% from 2022 to 2027. The government's Nigerian National Broadband Plan (NNBP, 2020-2025) aims to extend 4G coverage to 90% of the population by 2025, encouraging the adoption of locally assembled smartphones. This initiative not only connects more Nigerians but also offers merchants and content providers an expanded reach.
Many mVAS providers are already capitalising on this. In 2022 it was reported that mVAS providers earned N185 billion from MTN in the previous 15 years. MTN Nigeria also reported revenue of over N70 billion in 2021 from mVAS, marking a substantial 51.91% increase from the previous year.
Below are some of the trends in services we have identified in the market: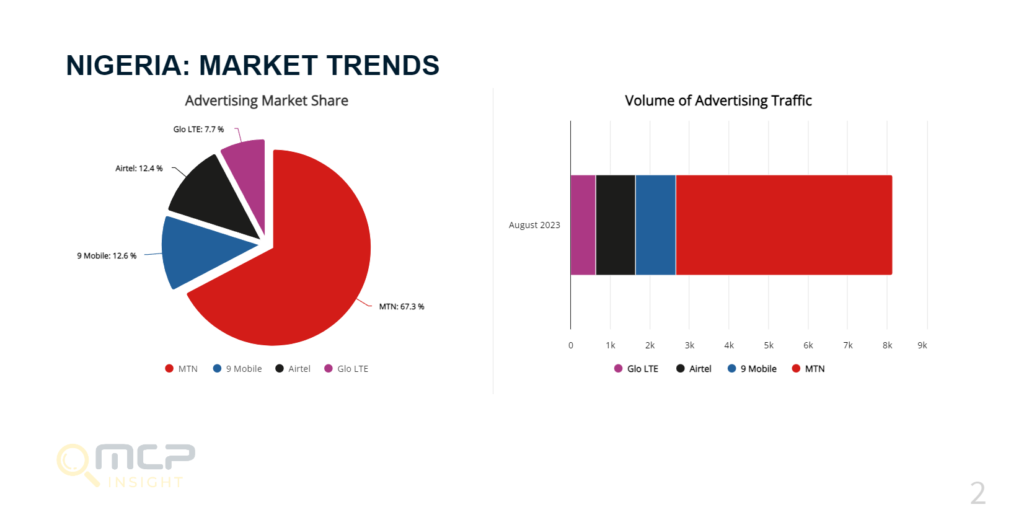 MCP SCANNER findings divided by MNOs and the total number of findings divided by MNO for the month of August 23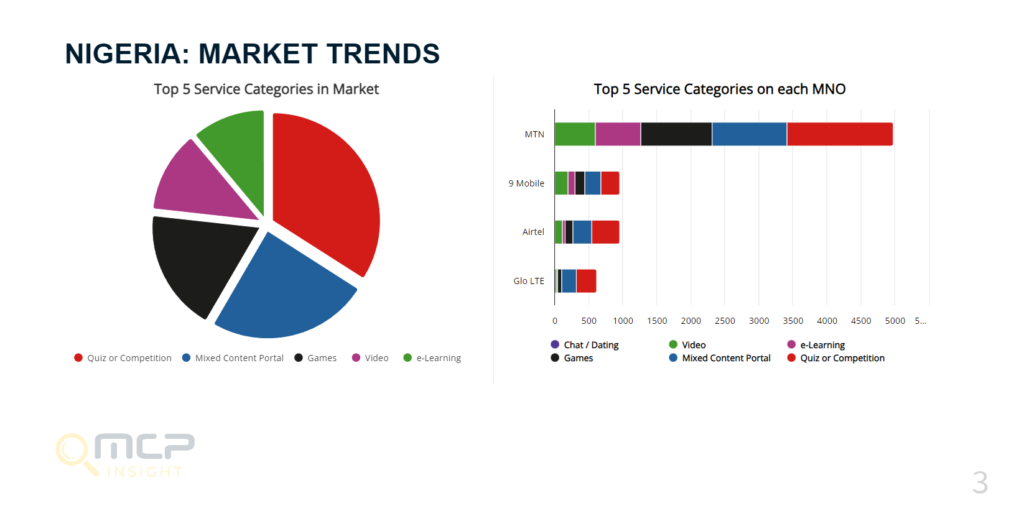 The number of MCP SCANNER findings divided by Service Category for the month of August 23
For more insights into the Nigerian mVAS market, request a demo of MCP SCANNER and we can show you what we're seeing. Click here >
Nigeria's Unbanked
Nigeria also presents a unique opportunity in addressing financial inclusion. Approximately 64 million Nigerians are unbanked, representing around 29.28% of the population. With mVAS, merchants can bridge the financial gap, offering services leveraging payment methods that people without a traditional bank account can access.
With most people using prepaid mobile subscriptions, consumers can make low-value transactions via direct carrier billing (DCB) or other digital payment methods that don't require a bank account. 96.8% of mobile subscribers are prepaid subscribers in Nigeria, although postpaid mobile voice subscriptions had increased by 21.9% in 2020 – 2021.
Payment Methods in Nigeria
Merchants seeking to tap into Nigeria's mVAS market must balance payment methods against conversion. Cash is still one of the most preferred payment methods in the country, so any digital payment method that allows the consumers to initiate the transaction with cash, is popular. This includes direct carrier billing (DCB), SMS MT Billing, and SMS MO Billing – which can all be funded by prepaid mobile subscriptions – as well as eWallets and mobile money services (MTN's mobile money service – MoMo being the most prominent) that can be topped up with cash.
Merchants should also be looking to provide customers with a friction-free and cost-effective method of making purchases. Here, alternative payment methods like DCB come into their own, involving minimal steps for consumers to confirm a transaction and pay for it via their mobile airtime. From our analysis, 2 click flows predominate in the Nigerian market although we have also seen some PIN flows appearing more recently.
Also, unlike with eWallets where consumers are generally charged when they top up their account, DCB doesn't incur any fees. Making it a convenient payment method for impulse purchases such as digital content, mobile apps and in-app purchases, as well as for paying for some ticketing, travel and utility services.
Navigating Compliance
It's essential to navigate the regulatory landscape diligently. Value-added service licensing and business operations in Nigeria are subject to regulations by the Nigerian Communications Commission (NCC) under the Nigerian Communications Act. Additionally, oversight by The National Lottery Regulatory Commission for gambling and prize games, along with the Federal Competition & Consumer Protection Commission (FCCPC), ensures compliance with government directives and consumer protection.
Often, mobile carriers have their own code of conduct and policies, which other parties must comply with to be accepted as an mVAS partner. For example, MTN requires that all CSPs work with an approved payment aggregator when selling services via its network.
To[DP2] ensure your mVAS campaigns are compliant with relevant legislation, whether your own ad flows or those created by other parties in the value chain, it is advisable to partner with a compliance specialist to avoid adverse financial repercussions.
How MCP Can Help
To seize the opportunity the Nigerian mVAS market presents, MCP can help you unlock growth. Our market intel services, anti-fraud solutions, and compliance support are tailored to grow your mVAS / DCB business sustainably while safeguarding against fines and increased regulatory scrutiny.
Contact MCP today to learn more about the market and how we can help you on your journey to mVAS success in Nigeria.