With its global reach, convenience and frictionless journey, direct carrier billing (DCB) has become a mainstream alternative payment method in recent years. While it initially gained popularity as a payment method for mobile value-added services (mVAS) such as ringtones and wallpapers, it has expanded to other digital content as well as a payment option for transportation, food delivery, online shopping, and more.
In tandem with the growth of DCB, the mVAS market has also expanded. Encompassing a wide array of digital content and services, including mobile apps, games, music, videos, subscriptions, and more, demand for engaging and convenient mVAS offerings has soared. The synergy between mVAS and DCB has opened up new revenue streams for mobile carriers, app developers, and content providers, shaping the mobile landscape and providing customers with a diverse range of enriching digital experiences at their fingertips.
However, as with any relatively new market, customer trust is a challenge. While globally mVAS and DCB adoption rates are increasing, any perceived issues such as fraud can quickly erode customer confidence and result in complaints and hesitancy to fully embrace these services and payment method. 
In the face of misleading mVAS ads, payment fraud incidents, and often unclear billing practices associated with DCB, customers may become wary of engaging with mVAS offerings through DCB channels. The repercussions of a trust deficit in the mVAS and DCB ecosystem can be far-reaching, hindering the industry's potential for further growth and stalling the transformation of mobile payments.
Who's Responsible for Customer Trust?
To ensure the continued expansion and success of mVAS and DCB, it's in the interests of everyone in the value chain to prioritise instilling trust and confidence in customers. By fostering a transparent and secure environment, the mVAS and DCB market can flourish, delivering enhanced customer experiences and solidifying its position as a pivotal force in the digital economy.
From advertising banners to payment confirmation, and ultimately customer care if queries arise, everyone has a part to play in building trust and enhancing the customer experience.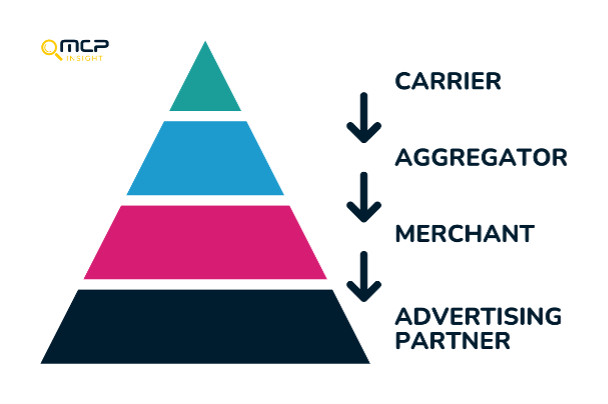 Building Trust through Due Diligence and Risk Control (DDRC)
To establish a trustworthy mVAS/DCB ecosystem and address customer trust challenges all parties in the value chain can implement Due Diligence and Risk Control (DDRC) best practices. DDRC measures can eliminate misleading mVAS ads and mitigate fraud, building trust as well as reducing customer complaints and the financial implications of regulatory scrutiny.
The infographic below illustrates what this looks like (click to download):

---
DDRC Best Practices
The best practices below provide a summary of the measures you can take to build trust and protect your mVAS/DCB business from complaints and regulatory fines.
Due Diligence
Partner Accreditation
Ensure that company registrations align, including regulatory and government requirements, examine the company's operating history and conduct additional online investigations to identify any other related entities.
Security Checks & PEN Testing
Verify that the details match, conduct searches across multiple sources to uncover any adjudications or evidence of bad practice, director checks, evaluate traffic sources and affiliate partnerships, and perform penetration testing and other security checks on partners' platforms.
Code of Conduct
Develop a Code of Conduct, to protect customers and the brand from the negative impact of fraudulent and non-compliant activities and grow a sustainable DCB business.
DDRC Secure Storage
Securely store accreditation, security audits, policies and other documentation in an auditable, tamperproof data management system to demonstrate compliance.
Service Onboarding & Go Live
Review ad banners for compliance issues, such as misleading content, and test the ad flow to ensure a compliant customer journey. Record the entire flow for audits.
Risk Control
Ad Monitoring
Monitor all live ads on the network for compliance issues, capture a record of the test from the ad banner to the payment page, and actively track approved services to evaluate their ongoing compliance status.
Escalation Management
Ensure compliance issues are documented and escalated to the appropriate team, and an audit trail of actions taken to identify, notify, and rectify the compliance issues ensures transparency and accountability.
Deploy Anti-fraud Solutions on Payment Pages
Protect payment pages from technical fraud, such as malware, with anti-fraud solutions that identify and block suspicious transactions.
Data Analytics
Utilise platforms that allow you to monitor key metrics for trends and anomalies to aid decision-making and governance and reporting.
Compliance Experts
Leverage the expertise of compliance specialists in the mVAS/DCB space to provide additional support and bespoke services as an extension of your team.
By embracing DDRC controls, the industry as a whole can instil confidence among customers, reduce complaints, and unlock the full potential of mVAS and DCB, resulting in an elevated customer experience and increased loyalty to mVAS services.