For many businesses, the Christmas holiday season is a hectic time of year as everyone does their best to convert customers and make sales. Seasonal promotions and ads are everywhere, but some are set on stealing Christmas from customers and brands.
The Grinch is busy sharing misleading ads, promising Christmas goodies but then sending customers to unexpected landing pages where they'll be charged for the service.
The MCP elves have been on the lookout for The Grinch and have found plenty of evidence of his mean-spirited ways. Below are some of the misleading festive ads our elves have uncovered and where they take unsuspecting customers.
On the 12th day of Christmas…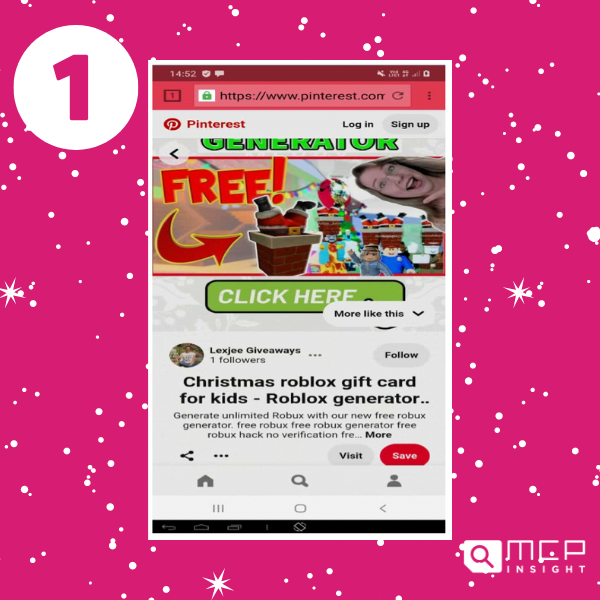 On the first day of Christmas the MCP elves didn't get a partridge in a pear tree. Instead, a free Roblox gift card promoted on Pinterest sounded like a great way to keep the kids entertained over the holidays, but why does this offer end up on the website of a catering company in Saudia Arabia? We suspect The Grinch has been at work!
No turtle doves here but this Facebook ad could be a great opportunity to get a Christmas present for yourself or someone special. So it's very disappointing to find yourself on a subscription page for a language learning app. Sounds like a great product, but not what was promised by the ad.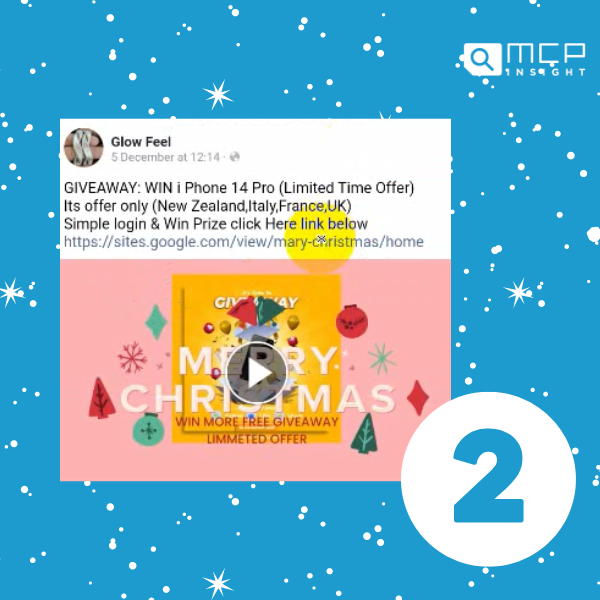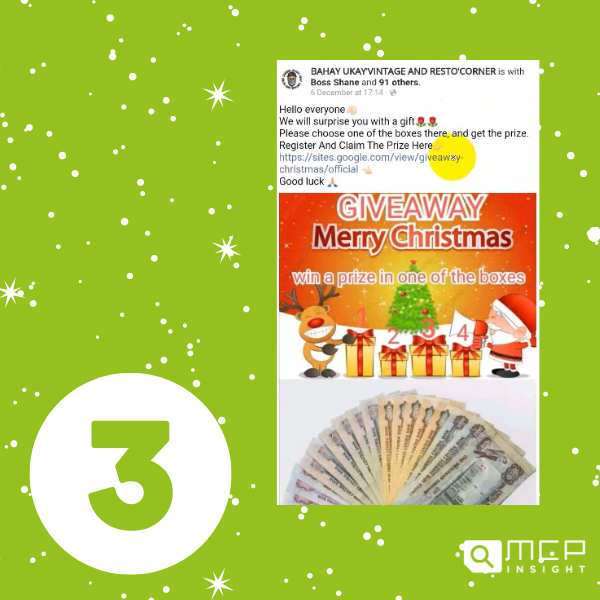 Another Facebook ad, and another exciting giveaway. The ad says all you have to do is register, but The Grinch seems to think that 'register' and 'subscribe' are the same thing. We disagree, this is clearly a misleading ad.
It's not clear what this giveaway is for from the ad, but by following the customer journey in MCP SCANNER our MCP elves found it was for a chance to win $10,000. That would be a great Christmas present, but there's a catch. The ad takes you to a subscription service costing 1 Riyal per day on a home decor landing page.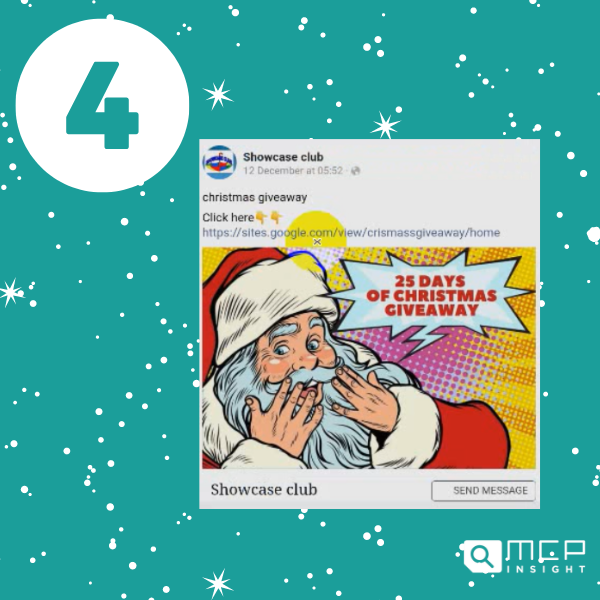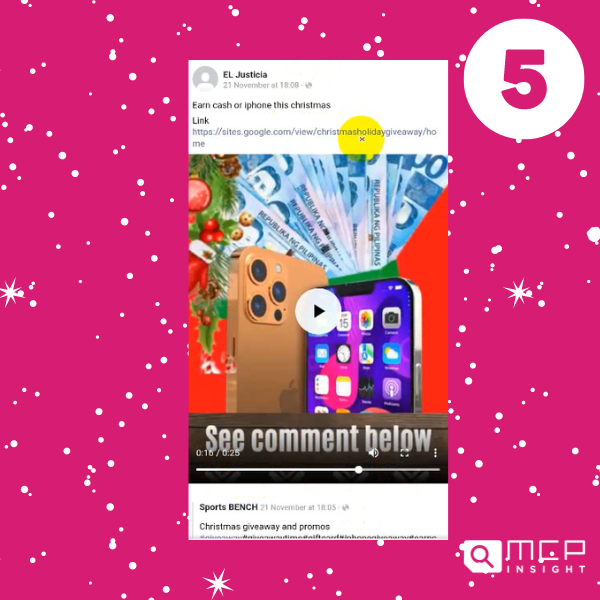 If you click through the customer journey for this Christmas giveaway, you'll also end up on the same home decor subscription page. This time customers are enticed by the chance to earn cash or an iPhone (not quite five gold rings), but when you get to the landing page there's a mismatch of what's being offered. It looks like The Grinch has been up to its old tricks again!
The Grinch has been busy advertising on Twitter too with another giveaway and, guess what, sending traffic to the home decor subscription page again. In another example of a misleading ad where the landing page is mismatched to the offer in the ad, customers who hoped to win a $750 PayPal gift card will be very disappointed.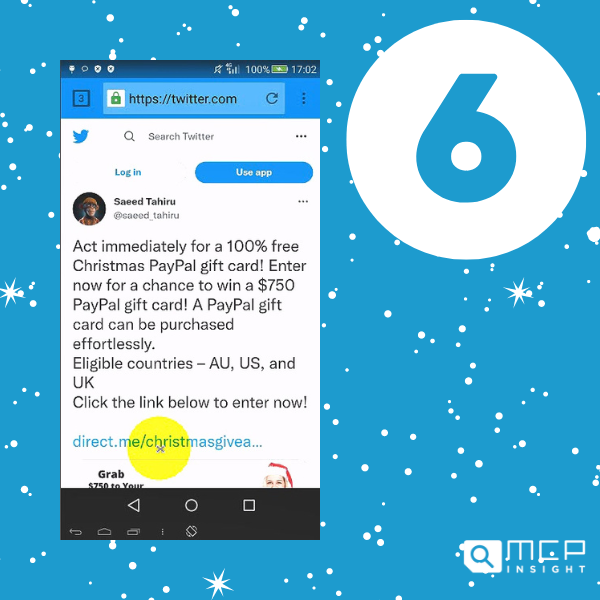 Back on Facebook, here's a chance to get yourselves a Walmart gift card worth $100 in time for Christmas. So why has The Grinch sent customers to this landing page which could cost them 1.45 EUR per day if they subscribed?
We wonder what Ellen DeGeneres would think if they followed this ad from Facebook to the final landing page. No sign of any Christmas gifts here or eight maids a-milking, just a subscription that will cost you up to 36.25 EUR per month.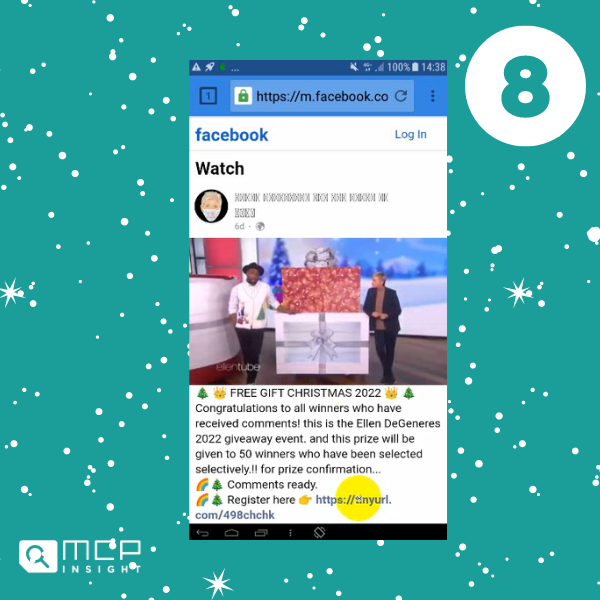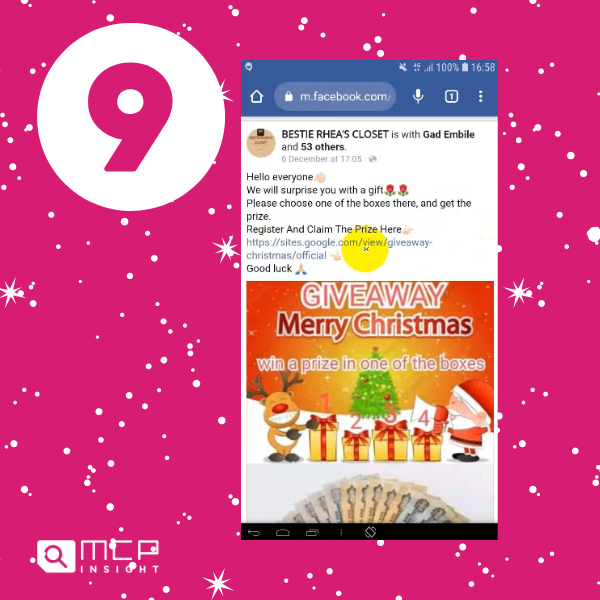 This ad looks familiar, we've seen the concept of a prize in a box before. But like the previous version of this Christmas giveaway, customers don't get the chance to win a gift. Instead, they can subscribe to a gaming service for 4 Rand per day. Misleading ads are not always the content service provider's fault, often it's an affiliate trying to boost their click-through rate with ads they know will drive more traffic to the landing page. But unfortunately this practice can be very damaging to brand reputations, making customers less likely to want to subscribe to a service if they feel they've been misled.
Here's an example that looks like there's a genuine chance to win an iPhone, but only when the customer subscribes to the service. This Christmas giveaway is for 1,000 new TikTok followers if you click through the steps, but there's a catch. The final landing page is for an eLearning subscription service, where you can win an iPhone. Based on the original ad, customers won't know where they'll end up, or whether they'll get those extra TikTok followers if they subscribe.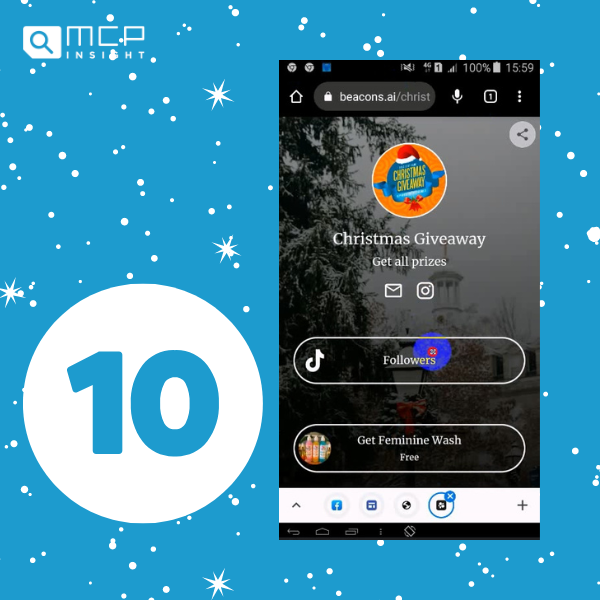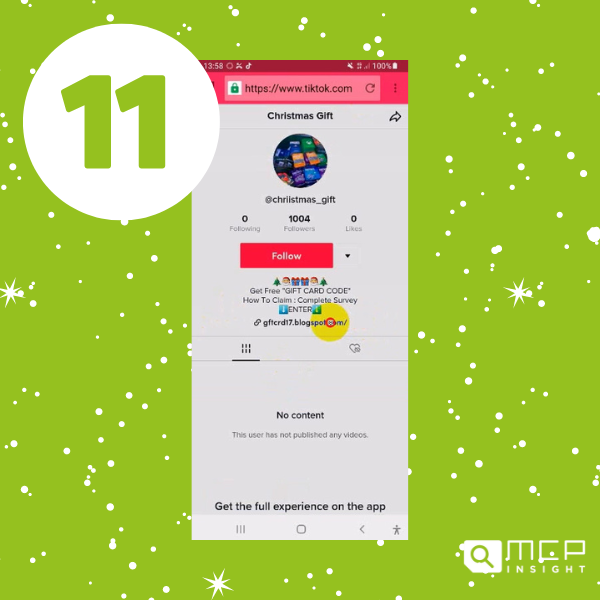 Customers looking to get a free gift card by clicking on this offer on TikTok will be very confused when they get to the final landing page. While a chance to win an iPhone is great, it's not the free gift card they were promised and there's a catch. They'll have to subscribe to this paid-for service if they want to be entered into the iPhone draw. The Grinch is having a very good time misleading customers before Christmas.
On the twelfth day of Christmas my true love promised our elves a $1000 PayPal gift card only to ask me to subscribe to their WhatsApp service charging 3.25 Emirati Dirhams per day. We were hoping for 12 drummers drumming…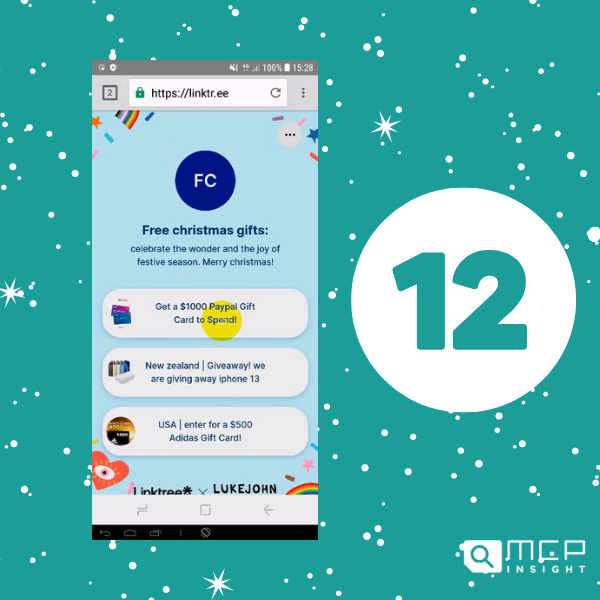 Misleading ads are damaging to everyone
As we explained earlier, misleading ads are not the fault of the mobile operator and often it's not the VAS provider who's responsible either. So who's guilty? It could be an Affiliate or a rogue marketer trying to drive the maximum amount of traffic to the landing page by using tried and tested methods like offering free gifts and chances to win prizes or cash. Affiliates are incentivised to use these tactics because their success is measured by traffic and click-throughs, not conversions.
While some customers may discover that the service being offered is something they want to subscribe to, most will feel like they've been misled and that is damaging for everyone in the DCB / VAS ecosystem.
How could it affect you?
Mobile operators – customers who subscribe to services that are not what they expected will probably complain to you first. When they spot the charge on their next mobile bill, it will be you they contact to query it and request a refund. You'll then have to refer them to the service provider to deal with the complaint, adding to your customer care team's workload and also impacting your customer satisfaction ratings. Even though it's not your fault, many customers will still think you're responsible for the charge.
Service providers – affiliates (and your own marketing team) who promote services using misleading ads are damaging your brand. Customers who subscribe and then query the charge will think that you're using fraudulent tactics to take their money. Paying for poor quality traffic results in complaints and refunds. Even if they don't subscribe to your service, customers will be suspicious of this behaviour and warier about transacting with your brand in the future.
Affiliates and marketing teams – we know that it's hard to get ads noticed when there are so many competing for attention – and so little time to get your ideal customers to take action. Free giveaways and prizes may boost traffic to a landing page but if the customer journey doesn't convert or results in a complaint, your reputation will also be damaged. Increasingly customers are savvy to these tactics and so they're not as effective as they once were, you also risk damaging the impact of genuine giveaways and competitions as customers assume every promotion is suspect. Once bitten twice shy.
How can MCP help?
MCP SCANNER provides ad monitoring services to help you identify misleading ads so you can take remedial action fast. Using automated and manual monitoring, we scan over 16,000 services daily and test millions of user journeys every month. MCP SCANNER records and logs the entire customer journey from Ad to final landing page with timestamps, screenshots, video and URLs, and gives each adflow a compliance score based on the territory's regulations. From your MCP SCANNER dashboard you can quickly see the ads that need further investigation and with our campaign tracker tool you can make sure your Affiliates are also following regulations. Each user journey is stored in MCP SCANNER for compliance auditing.
We also help our customers by supporting their entire compliance requirement, becoming an extension of their team. For those customers who don't have the capacity to do this work themselves, or want to benefit from our expertise, we perform due diligence; manage the onboarding of new services; provide compliance intel and apply fraud monitoring insight to our customer's processes and tools.
If you would like to know more, please contact our team >