Following a decrease in advertising campaigns from CSPs over the last six months, we're pleased to report that MTN South Africa is experiencing an uplift in campaigns and traffic.
MTN South Africa has experienced a loss of marketing from various content providers over the last six months, impacting its mVAS and DCB revenue and growth. However, based on activity identified by MCP TRENDS, this downward trajectory now appears to be in reverse.
Volumes have increased steadily in Q1 with a resurgence in marketing campaigns from various content providers for mVAS and DCB services in the past two months. This is a positive sign for MTN South Africa and its content partners, indicating that the traffic is looking good and that they can start focusing on monetising services again.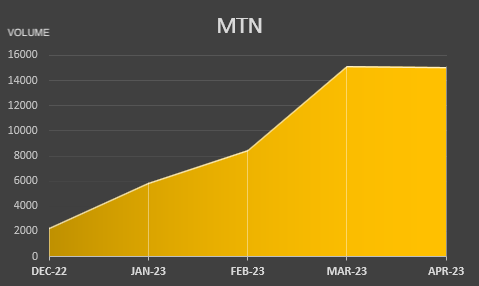 A positive change in marketing trends for MTN South Africa is encouraging news. It suggests that MTN's efforts to improve their services, billing and offerings are paying off, and that content providers are once again seeing value in marketing their service to MTN customers.
As the mobile network industry in South Africa continues to evolve and become more competitive, it is important for companies to stay ahead of the curve and provide innovative solutions to their customers. By monitoring marketing trends and making data-driven decisions, Content Providers, Aggregators and Mobile Operators can continue to grow and thrive in this ever-changing market.

The graph above shows new services launched on MTN's network for the period 27 Feb – 24 April 23 – identified by MCP TRENDS.
To book a demo of MCP TRENDS, click on this link.